Resources for
Stèles

/ 古今碑錄

Additional material and links related to the life and work of Victor Segalen with an emphasis on

S

tèles

/ 古今碑錄.
Gallery
NOM CACHÉ / SEAL (無朝心宣年譔)

Full color image of the pages showing
Mot caché
and the final seal from the 1914 edition used for the facsimile reproduction.
SEAL DETAIL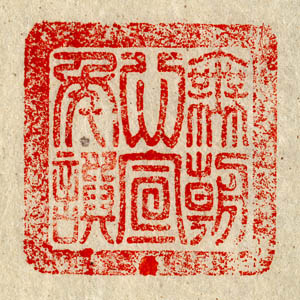 Detail of final seal reprising the first epigraph (無朝心宣年譔).
BOOK COVERS


The wooden covers of the 1914 edition.
All images (c) Timothy Billings and Christopher Bush.
| website and content suggestions: billings@steles.org
|